This page was last updated: February 1, 2010

Copyright © 2000 Larson Century Ranch, Inc. ~ All Rights Reserved

P. O. Box 1982

Clarkston, WA 99403

Telephone: 509-758-5445

FAX: 509-758-5701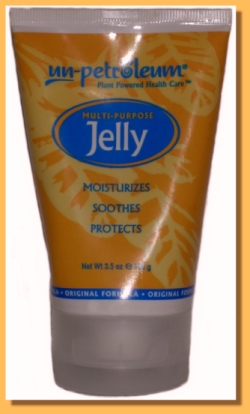 Autumn Harp Un-Petroleum® Jelly

100% petroleum free!

Un-Petroleum Jelly is a multi-purpose skin moisturizer and protectant made from natural plant oils and waxes.

Soothes and moisturizes dry skin.

Prevents chafing and windburn.

-- Helps to protect against diaper rash.

Removes make-up, such as little kiss marks all over baby's tummy.

Also great for those with gluten intolerance.

Ingredients: Castor Oil, Coconut Oil, Beeswax, Castorwax, Soybean Oil, Tocopheryl Acetate and Tocopherol (Vitamin E).

Un-petroleum Jelly - 3.5 oz (100 g) Tube

$7.00